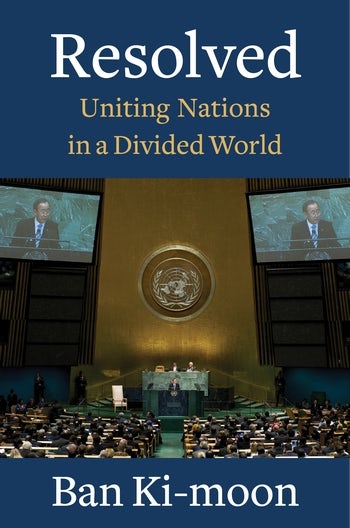 Source: Columbia University Press
Former UN Secretary General Ban Ki-moon's memoir 'Resolved: Uniting Nations in a Divided World' has been officially published as of June 15th, 2021
'Resolved: Uniting Nations in a Divided World' is a record written by the UN leader who has survived from complex global crises such as the Myanmar internal conflicts, Israeli and Palestinian conflicts, and the Ebola epidemic. The book also includes the author's philosophy behind of the key UN success stories such as the Paris Agreement and the SDGs (Sustainable Development Goals).
Facilitating the cooperation of the world's citizens, including the world's political leaders and business leaders, is one of the purposes of writing the memoirs. Mr. Ban hopes to cultivate the spirit of the international citizen with this memoir. He mentioned that he would like to see "Global Citizens," who act from a global perspective.
The book was published by the Columbia University Press, USA, and the Korean translation will be published in September this year.