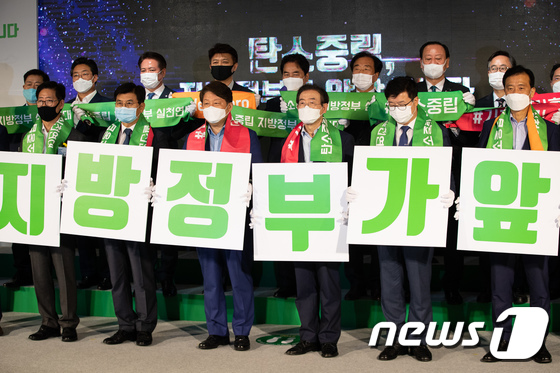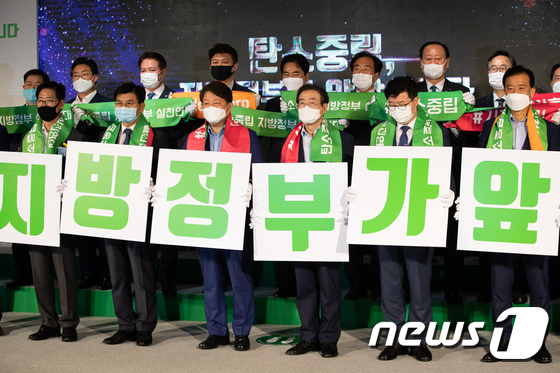 On July 7th, Chairman Ban attended the inauguration ceremony of the "Carbon Neutral Local Government Practice Band". 80 local government leaders participated in the band. The local government leaders who participated in this event recited the 'Carbon Neutral Declaration' and announced their collective will to achieve sustainable, carbon neutral society by 2050.
In his opening speech Chairman praised the effort of local governments' action, hoping that this movement will spread throughout the society. Although carbon neutral will be a challenging task to accomplish for countries like South Korea, where coal generation and manufacture industry takes a large part of the economy, the solidarity of cities and business communities will be a start of a paradigm shift we need to achieve for a greener future.
Below is the translation of his speech:
Source: KTC Official Youtube Channel
First, I truly congratulate the inauguration of the "Carbon Neutral Local Government Practice Band", which is the result of the collective will and efforts of local governments to lead climate action.
Though the international society praises South Korea's COVID response, the prevailing economic, social difficulties that we are currently coping through shows just how disastrous a pandemic can be to the humanity. Pandemic brought to us by biodiversity loss and climate change. Today's discomforting and painful situation has ironically given all of us an opportunity to raise consciousness on climate crisis.
The NCCA(National Council on Climate and Air Quality) took off last April to solve the fine dust issue. Last October, we proposed the 'Public Policy Proposal' that includes the Seasonal Management Plan by the putting together the wisdom of Korean citizens and professionals. The Korean Government has adopted this proposal and as a result, the density of fine particulate matter has reduced by 27% and days high in fine dust declined from 18 days to 2.
This year we plan to propose a mid-long term plan that can address the fundamental cause of climate change rather than the short term, emergency measures like the Seasonal Management Plan.
I hear that last June 5th, every local government gathered their will to declare "Climate Crisis Emergency". As the former UN Secretary-General and the Chair of the NCCA, I am very proud to witness local governments' voluntary actions and mutual solidarity.
Internationally, spontaneous action of business communities and local governments is spreading, announcing '2050 Net Zero' commitments and implementing bottom-to top climate action like carbon neutral plans. According to the UNFCCC, 120 states globally, including the main cities, businesses, and investors are joining the carbon neutral declaration movement.
Climate leading states' local governments, such as in the EU and US, are showing leadership in climate response by developing alternative energy based on their regional characteristics and organizing civil activities to reduce carbon emission. Global business corporations such as Google, Amazon, Microsoft, Nestle, Starbucks, BP are all participating in this greenhouse gas reduction movement, realizing that this in turn leads to business competitiveness.
I am glad to witness these changes in South Korea as well.
Starting from last June, Seoul City, the local governments have started to full swing their carbon neutral action. I believe today's event is a chance to confirm the will of local governments. I expect today to be the starting point of the paradigm shift towards low-carbon, and hope that this change will spread throughout our society.
The Korean government is due to propose the Korean "Total New Deal" plan this month. This is a response strategy to climate change, environmental crises and our economic growth strategy. Moreover, they are preparing for the 2021 New Climate System, by developing 2050 LEDS(Long-term low greenhouse gas Emission Development Strategies), that we have to summit to the UN by the end of this year according to the Paris Agreement.
Carbon neutral, that aims on making carbon emission 0(zero), is a much difficult task to achieve for South Korea, considering the high percentage of coal generation and manufacture. There are many obstacles to overcome in the consultation process, such as specific goat setting, efficient reduction measures, tuning interests between industries, and more.
However, if our society understands the courage and will of today's Carbon Neutral Local Government Practice Band, Korea can become a pioneer state in climate response, just like how we are recognized as a role model state in pandemic response.
As we all know, US has withdrawn from the Paris Agreement since the Trump administration. However, governors, mayors, university deans, and main business owners have declared that will to adhere to climate response by starting the 'We are still in" campaign.
Likewise, I deeply honor the insight of local government leaders here to act ahead and lead the central government.
Korea has a proud history of coming together at difficult times, transforming crises into opportunities, to take flight. Today we are writing down another page in history titled 'Overcoming Climate Crisis' by collecting the wisdom of local governments, civil society, and the people together.
I once again congratulate the beginning of the "Carbon Neutral Local Government Practice Band" and hope that this to be the pivot center for climate response.
Thank you.